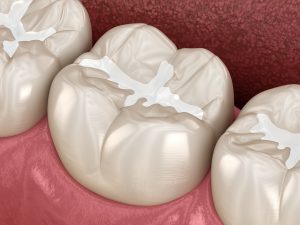 Dental cavities could develop in smiles of all ages, and when they do, cavities become a source of discomfort and even infection. To treat the cavity and bring relief, smiles both young and old benefit from a metal-free and lifelike composite resin dental filling. In today's blog, your Syosset, NY, dentist talks about how we create and place your natural-looking dental filling.
The Causes of a Cavity
How does a cavity form in one of your teeth? Each tooth is coated in enamel, a strong protective layer. Which means tooth decay doesn't occur until the enamel is compromised. When we enjoy foods and drinks high in sugar and starch, this leaves behind particles for bacteria to break down. As bacteria consume these particles, this elevates oral acidity and coats the teeth in plaque, which erodes the outer enamel. The exposed inner layers then allow a cavity to form. Likewise, if a tooth is cracked or chipped, this could also expose the inner sensitive layers and cause a cavity.
Potential Signs of Trouble
If you attend routine checkup and cleaning visits with us every six months, then we will likely identify the presence of a cavity in the earliest stages, providing treatment before you experience discomfort. Otherwise, you may not know you have tooth decay until the later stages, at which point the teeth could feel sensitive or ache. Treatment is then crucial for avoiding the onset of an infection and risking the loss of your tooth!
The Benefits of a Composite Resin Filling
If you have an aching tooth, or if we find one, then we will move forward with treatment. Placing a filling starts with the administration of a numbing agent to ensure you feel comfortable. We could also discuss sedation if you have high levels of dental anxiety. Next, we remove the decay from the tooth and apply a filling material. Instead of metal, we use a blend of glass and acrylic, which we shade to blend with your smile seamlessly. We then shape the tooth as we cure the composite resin under a light. The final step is to polish the tooth for a more attractive appearance.
In only one sitting, we provide a lifelike solution to tooth decay and offer relief from toothaches. If you have any questions about treating cavities, then contact our team today.
Syosset Dental Treats Tooth Decay with a Dental Restoration
We know how to address dental cavities and help restore your smile to optimal health, function, and beauty, all in only one visit. If you have questions about our restorative treatment options, or if you need to schedule an appointment with us, contact our Syosset, NY dental office today at 516-433-2211.