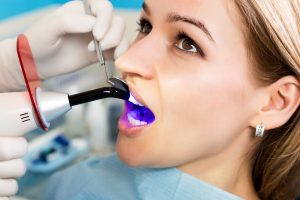 Metal fillings, while effective, are pretty obvious and could impact your smile's appearance. However, your Syosset, NY, dentist can create and place fillings no one can see, ensuring they blend with your smile and prevent the onset of an infection. In today's blog, we will discuss when to see us for treatment, and what makes a filling so natural-looking.
The Importance of Treating Cavities
First, let's talk about tooth decay. Cavities occur when the outer layer of enamel no longer protects the inner dentin from exposure to bacteria. The enamel could weaken and erode due to poor oral hygiene habits and worsening plaque buildup, or an injury could compromise the protective layer. A cavity grows with time, leading to tooth sensitivity, toothaches, and eventually, leading to an infection unless treated. To avoid worsening pain or even the loss of a tooth, you should seek treatment when you first notice persistent sensitivity or aches in your smile.
Creating Lifelike Dental Fillings
Our team will use digital scanning technology and digital x-rays to carefully examine your smile, and identify the presence of a cavity. We can even diagnose them in the earliest stages of demineralization, before you experience discomfort. Which is actually a reason to attend your checkup visits every six months, so we address issues before they cause discomfort!
If we discover a cavity, we will administer a numbing agent and then remove the decay from the tooth. We clean the area and then place the composite resin material. Composite resin is a blend of quartz and acrylic that contains no metal. The material will be color-matched to blend with your smile. We sculpt and mold the tooth as we cure the composite resin under a light. The final step involves polishing the tooth. In a single visit, we repair your cavity and protect your smile from complications!
Protecting Your Smile
To safeguard your smile against future cavities, be sure you continue to brush and floss daily to remove stray food particles and control plaque buildup. Every six months, make time to schedule a visit so we can remove all plaque and tartar from your smile, before your enamel is compromised. To avoid feeding harmful bacteria, try to consume fewer sugary foods and drinks. If you have any questions about treating a cavity in one visit with a lifelike restoration, or about staying cavity-free, then contact our team today.
Do You Have Questions About Restorative Care?
We know why treating tooth decay is essential, which is why the team at Syosset Dental in Syosset, NY provides lifelike dental restorations. Contact our office at (516) 433-2211 to schedule your appointment today. Our team wants to help you avoid infections and abscesses with quality dental restoration.