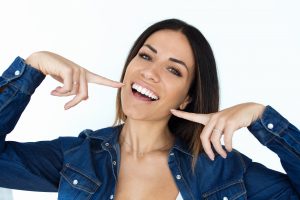 If you have decayed and missing teeth, minor and severe damage, or issues with bite balance or smile esthetics, you may need more than a single treatment to improve your smile. To help restore the health and beauty of your smile, even addressing missing teeth, your Syosset, NY, dentist may suggest treatment with our full-mouth rehabilitation.
Starting Your Path Toward a Better Smile
First, we want to understand the factors behind your smile's restorative and cosmetic issues. To begin, we will talk to you about your smile goals and the issues you hope to see corrected. Next, we look at your dental records and take detailed images with digital x-rays and intraoral cameras. We then use the information to look at your teeth, roots, gums, and oral structures, identifying the factors behind your oral health concerns. Finally, we create a treatment plan to address these concerns in a way that works with both your schedule and your budget. We discuss the plan, and how long the process will take.
General and Cosmetic Care
The process is a phased approach, in which we tarte the most pressing issues first, and then tackle the esthetics. For issues with bite balance and strain, such as TMJ disorder or bruxism, or severe plaque buildup, we can create a custom oral appliance and also remove buildup with an ultrasonic scaling device. We also watch for common disorders like cavities, gingivitis, and gum disease, and we screen for oral cancer too. For cosmetics, we have professional teeth whitening to remove most stains, and dental bonding and contouring to reshape teeth and address gaps between teeth. For the most lifelike appearance, our team could also employ custom porcelain veneers, which instantly alters the shape and color of each tooth.
Restorative and Prosthetic Dentistry
If you have a cavity, we can place a metal-free and lifelike composite resin filling. Our custom dental crowns look natural and help reshape the teeth and address more severe cases of decay or injury. Root canal treatment could stop the spread of infection and ensure lifelike results afterward. If you have missing teeth, our team could use bridges, dental implants, and custom-made dentures to offer prosthetics that look natural, fit comfortably, and absorb daily bite forces and stress. If you have any questions about how we approach a full-mouth rehabilitation, or if you would like to schedule an initial consultation, then please contact our team today to learn more.
Syosset Dental Offers a Transformed Smile
We want to help you enjoy better oral health, tackling multiple issues in as little as one to two visits in some cases. If you have questions about how we address a wide array of oral health issues, including damaged or missing teeth, then contact our Syosset, NY dental office today at 516-433-2211.