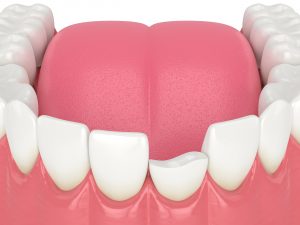 Over time, what starts as minor oral health concerns could soon grow and cascade into multiple issues with the function, stability, and appearance of your smile. Factors like tooth decay, gum disease, bruxism, and more could mean damaged smiles and even missing teeth. To rebuild your smile and safeguard your oral health, your Syosset, NY dentist may suggest a full-mouth rehabilitation.
The Causes of Your Smile's Breakdown
The problems could often start with poor oral hygiene habits. Lack of proper brushing and flossing, and infrequent visits for checkups and cleanings could allow bacteria to thrive and create plaque and tartar buildup on your smile. Over time, this buildup could mean a greater risk of everything from stained teeth and halitosis, to tooth decay, infection, and even periodontal issues like gingivitis and gum disease. Again, unless treated or managed these issues will grow more severe and you could develop missing teeth, with the gaps in your smile boosting the risk of issues like misalignment, TMJ disorder, and bruxism (teeth grinding). As you see, what starts as a minor issue could become much more without regular care from your dentist!
Planning Your Treatment
If you have multiple issues with the appearance, function, and health of your smile, then you may benefit from a full-mouth rehabilitation. To start the process, we will need to see you for an exam. With digital x-rays and intraoral camera images, we can obtain a clear picture of your current oral health, assessing the cause and extent of your cosmetic and restorative issues. We then plan your treatment to ensure you obtain the results necessary to safeguard your oral health and give you confidence to smile again, all while fitting within your budget and your hectic schedule.
The Full-Mouth Rehabilitation
Simply put, the rehabilitation process means we plan a course of treatment that combines general, cosmetic, and restorative procedures to rebuild your smile. For example, teeth whitening erases discoloration, and single-visit bonding and contouring could repair minor esthetic issues or damage. We could create lifelike crowns and veneers to address more severe issues with a tooth's shape, or repair injuries and decay. If you have missing teeth, we can design and place lifelike implants and prosthetics to restore your smile to optimal function and beauty again. If you have any questions about how we transform for your smile, then please contact our team today to start the process. We're ready to see you, and help you obtain the smile you deserve.
Do You Have Questions About Full-Mouth Rehabilitation?
We want to help you avoid worsening oral health and protect the function and beauty of your smile, which is why the team at Syosset Dental in Syosset, NY provides full-mouth rehabilitation. Contact our office at (516) 433-2211 to schedule your appointment today.