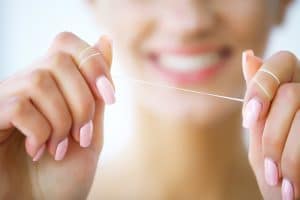 According to studies from the Centers for Disease Control, half of adults aged 30 and older suffer from some stage of periodontal disease. This preventable disease could lead to major problems for your smile, including an increased risk of adult tooth loss. In today's blog, your Syosset, NY, dentist explains how to recognize warning signs and help prevent the onset of gum disease.
The Causes of Periodontal Disease
The disease begins as initial inflammation in the gums. The inflammation could be the result of poor oral hygiene, which enables plaque to accumulate on the teeth and irritate these tissues. Other causes include smoking cigarettes or using other tobacco products, inflammatory illnesses, the use of certain medications, or a family history of periodontal issues. When the inflammation starts, the gums could begin to appear redder than usual, or could feel sore or bleed easily. With time, the tissues pull away from the teeth and form deep pockets for bacteria to enter, causing periodontal disease.
Dangers for Your Smile
In the inflammation stages, known as gingivitis, care could still reverse the issue. However, once periodontal disease forms there is no cure, and treatment is necessary to manage the disease and prevent periodontitis. The late stage of the disease, periodontitis actually attacks the tissues that connect your teeth and gums, leading to adult tooth loss.
Prevention at Home
You can take a number of steps to help protect your smile. For example, avoid tobacco products. You should also brush your teeth when you wake and again before bed for at least two minutes. Before bed each evening, you also need to floss up and down each side of every tooth, dipping below the gum line. These actions remove trapped food particles bacteria feed on, limiting the severity of plaque buildup and protecting your gingival tissues of inflammation and disease.
Cleanings
You also need to see us every three to four months for a cleaning. The procedure is the only way to remove plaque and tartar (calcified plaque) from your smile completely. The cleaning helps prevent inflammation, safeguard your smile from not just periodontal disease, but a host of other serious complications too, including cavities.
Scaling and Root Planings
What if you exhibit the warning signs of gingivitis or the early stages of gum disease? We may recommend a deep cleaning, known as scaling and root planing. The procedure removes buildup from both the teeth and the roots, and could take between one and up to four visits, depending on the extent of your buildup. We then polish the smile. We often use a scaling and root planing to reverse gingivitis, or to begin managing gum disease. Afterward, cleanings should occur every three to four months.
Do You Have Questions About Preventive Dentistry?
Poor gum health could mean serious complications for your smile, which is why the team at Syosset Dental in Syosset, NY provides preventive care for our patients. Contact our office at (516) 433-2211 to schedule your appointment today.