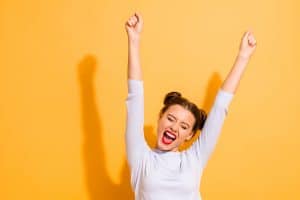 A healthy smile is a goal many of us have, and with 2021 just around the corner, setting the goal to stay on top of oral health is an excellent New Year's resolution. The thing is, however, that you not only want to have a healthy grin, but one you feel confident in revealing as well. While stains or chips are not the most threatening concerns for your teeth, they certainly are not favorable either. In today's blog, your Syosset, NY dentist will look at three ways cosmetic dentistry can address blemishes and leave you feeling happier and more confident about your smile.
Removing Stains
Throughout the course of our lives, our teeth endure much wear and tear over the years. Not only do your preventive practices at home and routine dental visits play a major factor in your oral health, but so does your diet, beverages you consume, and much more. Because of this, it is only natural stains can develop over time. While you may be on top of brushing and flossing regularly, sometimes those pesky stains just won't budge and instead require a tougher treatment such as teeth-whitening. During this process, your dentist will apply a strong but safe bleaching gel to the surfaces of your teeth that is then stimulated with a special light, brightening your smile in just over an hour. The best part is it only takes one visit! If you prefer to enhance your grin at home, however, we also offer take home kits as well.
Mending Chips and Cracks
Another common blemish that can occur is a chip or crack. These can happen due to a variety of circumstances, including a physical accident or other means, and often entail unevenness and discontinuity in your appearance. Fortunately, your dentist may recommend the cosmetic procedure of tooth bonding and contouring to solve your concern. When you attend your visit, your doctor will utilize a tooth-colored composite resin to mend the cracked structure or add area to a chipped tooth, making your teeth even once more. The malleable material is then shaped to mimic the natural texture of your teeth, then hardened to provide a sturdy finish.
Addressing Multiple Blemishes
If your smile is riddled with a variety of blemishes including difficult stains below the surface, cracks, chips, and even gaps between teeth, your dentist may recommend the use of porcelain veneers. Veneers are ultra-thin shells of dental porcelain that are custom-created and secured to the front of your teeth with a dental cement. Only minimal enamel sculpting is needed to avoid a bulky appearance, and they offer a permanent solution to keeping your grin vibrant and stain-free.
Schedule Your Appointment
Having a healthy smile is one thing, but having a healthy one that your truly love is another. Contact Syosset Dental in Syosset, NY by calling 516-433-2211 to find out how cosmetic dentistry can help you acquire the vibrant, youthful smile you've always wanted.