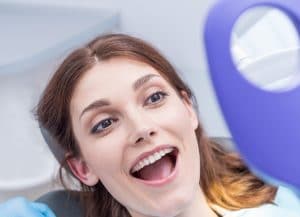 Teeth stains don't have to be severe to have a noticeable impact on your smile's appearance. Against the uniformity of your healthy, natural teeth, even minor stains can become glaringly obvious. Unfortunately, teeth stains aren't always preventable like other dental issues. The good news, though, is that most common teeth stains can often be erased quickly and conveniently with professional teeth-whitening. You can also hinder teeth stains from developing to keep your smile brighter for longer with a good hygiene routine and regular preventive dental visits.
How to Avoid Teeth Stains
Teeth stains most frequently form on the surface layer of your teeth, known as enamel. They can occur as a cumulative effective of color molecules in your food clinging to your enamel, or from exposure to substances like tobacco and alcohol. While you can avoid things like tobacco, you can't avoid eating; however, you can slow the accumulation of staining molecules by keeping your tooth enamel strong and healthy. In addition to brushing your teeth twice a day and flossing at least once, be sure to brush or rinse your teeth with water after every meal and snack.
Erasing Stains that Can't Be Prevented
When teeth stains do eventually show up, keeping a regular schedule of checkup and cleaning appointments will help your dentist spot them sooner. With custom-designed teeth-whitening treatment, we can quickly and effectively erase teeth stains so you can enjoy smiling confidently again. Or, if your teeth stains are caused by a more serious concern (such as internal tooth damage or decay), then your dentist can recommend an appropriate restoration to improve your smile and your oral health.
Learn How to Fight Back Against Teeth Stains
Not all teeth stains are preventable, but you can make it harder for them to appear by keeping your teeth clean with consistently good hygiene and preventive care. To learn more, schedule an appointment by calling Syosset Dental in Syosset, NY today at 516-433-2211 or 516-921-1678.