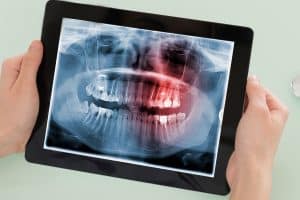 These days, you may see a lot of dentists promoting the use of digital X-rays in their offices and the benefits they provide compared to traditional ones. However, just the term "digital" doesn't always mean better, so you may still wonder how digital X-rays work, and why you should care. The truth is that digital X-rays aren't just a tip of the hat to the digital age; the technology allows your dentist to capture high-resolution X-ray images of your teeth and oral structures faster and in a safer manner. This means you spend less time waiting for diagnostic images and your dentist can design a more accurate and effective treatment plan, if necessary.
The Purpose of Dental X-Rays
The purpose of routine dental exams is so that you and your dentist can keep a close eye on notable changes in your oral health. Some signs are obvious, such as bleeding or inflamed gums, but other signs of oral disease may not be as visible. Dental X-rays provide a clear picture of things your dentist can't see with the naked eye, such as early indications of tooth infection, periodontal disease, or potentially cancerous tissue anomalies. Because dental radiology involves low levels of radiation, your dentist will only suggest X-rays when necessary, such as for more detailed diagnosis or treatment planning.
Why Digital Is Better
Despite the radiation, dental radiology is safe for most patients. Still, X-rays are significantly safer when captured digitally. Using digital technology instead of film-based image production, digital X-rays emit up to 90% less radiation, making them safer for a wider variety of patients. The digital images are also produced instantaneously so you don't have to wait for them to be developed. Your dentist can view and explain the images on a chairside monitor so you better understand your oral health and need for treatment.
To experience the difference that digital X-rays and our other array of dental technology makes, schedule a visit with your dentist as soon as possible for a professional diagnosis and treatment options. Call our office in Syosset, NY today at 516-433-2211 or 516-921-1678. We proudly serve the residents of Syosset, Long Island, Nassau, Suffolk, and all surrounding New York City communities.