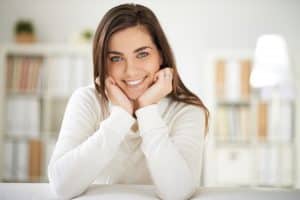 When it comes to creating a smile that you can be proud to show, porcelain veneers are among the most popular cosmetic dentistry options. Veneers are wafer-thin shells that mimic the front surfaces of your teeth, and are made from highly realistic dental porcelain that makes them virtually indistinguishable from healthy tooth structure. Before opting for them, however, you should know the benefits of porcelain veneers and how they can help you restore confidence in your smile.
Veneers are versatile.
Because veneers are designed to be bonded to the fronts of your teeth, they can serve a large number of cosmetic and restorative purposes. Teeth that are severely stained, chipped, cracked, oddly spaced, or more can often be corrected quickly and effectively with one or more porcelain veneers. In cases of minor tooth misalignment, veneers may even help patients straighten their smiles without the need for braces.
Veneers are nearly undetectable.
Every veneer is hand-crafted according to highly specific measurements of your tooth, and is bonded carefully and artfully onto each tooth. The result is a highly realistic, nearly undetectable finish, minus the blemishes that marred your smile before your veneers were placed.
Veneers are easy to maintain.
Taking care of porcelain veneers is as easy as taking care of your healthy, natural teeth. Brush your teeth and veneers at least twice a day, floss between them at least once, and stick to a strict schedule of regular visits with your dentist. With the right care and maintenance, your veneers can last up to 10-15 years or more before your dentist suggests replacing them.
Porcelain veneers make it easier than you might think to achieve the smile you've always wanted! To learn more, call our office in Syosset, NY today at 516-433-2211 or 516-921-1678. We proudly serve the residents of Syosset, Long Island, Nassau, Suffolk, and all surrounding New York City communities.