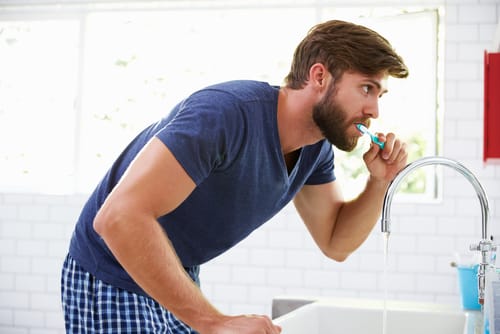 If your teeth aren't properly taken care of, they can become decayed and susceptible to infection – potentially leading to tooth loss. However, practicing proper oral hygiene and visiting your dentist to ensure your teeth are strong and healthy can prevent infections such as periodontitis. Your dentist may periodically recommend x-rays and oral cancer screenings – rest assured this is to maximize your oral health. Typically, if you have an issue like infection or oral cancer, the earlier your dentist is able to identify it, the earlier you're able to treat it.
Brushing & Flossing Your Teeth
The general recommendation is to brush your teeth twice per day (usually in the morning and before bedtime) and floss at least once per day. However, your dentist may recommend that you brush and floss additionally throughout the day if your gums are more susceptible to plaque and tartar. To properly brush your teeth, it should take you a full two minutes – make sure you're brushing near your gum line, too! In order to floss effectively, be sure to floss between every tooth, including behind the last ones!
Oral Cancer Screenings
Oral cancer can greatly affect your overall health, not just your oral health. Part of visiting your dentist annually or biannually is checking for anything that could potentially be cancerous inside your mouth. To do this, the team at Syosset Dental performs a visual screening at every exam, and recommends using VELscope – technology that is able to detect oral cancer cells before they even emerge – once per year. This allows your dentist to begin treating the cancer earlier on.
Professional Cleanings
During a professional cleaning, your dentist will be able to remove bacteria from those hard-to-reach places that you can't get when you're brushing your teeth. Your dentist is able to use many different tools (besides just a toothbrush) to ensure that your teeth are strong and healthy.
ABOUT YOUR SYOSSET

, NY,

DENTIST

:

Dr. Kobak, Dr. Berk, and Dr. Diamantakis and the team at Syosset Dental offer a wide range of services designed to improve the health and beauty of your smile. They gladly serve the residents of Syosset, Long Island, Nassau, Suffolk, and surrounding New York City communities. To schedule an appointment call our office at 516-433-2211 or 516-921-1678.