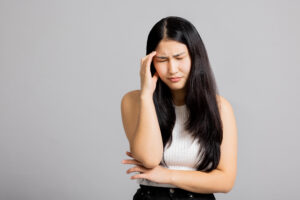 When you have pain in your jaw or a headache that occurs frequently, then this could mean you suffer from a common jaw joint disorder known as TMJ disorder. Bruxism, or chronic teeth grinding, could be an issue too. In today's blog, your Syosset, NY, dentist talks about how we offer relief with a custom oral appliance.
What Headaches and Jaw Pain Could Mean
When you have chronic pain in your head and jaw, then you should let us know. We will conduct a thorough examination of your smile and jaw, taking detailed digital x-rays and intraoral camera images. These images will enable our team to make a diagnosis with precision and accuracy, so we can identify the factors behind the strain and stress on your smile, and find relief. Often, these are related to complications like TMJ disorder or even bruxism (teeth grinding).
The Causes and Dangers of TMD and Bruxism
TMJ disorder refers to strain on your joints, and bruxism means you grind or clench your teeth on a nightly basis. While separate issues, both can be brought on by changes to your bite balance. These changes could include missing teeth, injuries to the face or jaw, misalignment, complications with the growth of your smile or the eruption of the teeth, and high levels of stress in your daily life. Warning signs include headaches and jaw pain, as we've established, as well as facial aches, neck and shoulder pain, and toothaches and tooth sensitivity. When you experience chronic pain in your smile or head, then let us know right away so we can start you on the path toward treatment.
Treatment with an Oral Appliance
Our team will create an oral appliance that looks and fits much like a mouthguard. However, this device has been crafted and custom-fitted based on detailed digital impressions taken of your smile. They fit comfortably, and shift your jaw to ease stress and strain, so you avoid symptoms of TMJ disorder and bruxism. This also prevents further damage to your teeth by placing a barrier between the upper and lower sets of teeth. We could also offer relief with orthodontics to correct misalignment, prosthetics to address tooth loss, or by using bonding/contouring to improve bite balance and chewing function. Custom crowns can aid in treatment too.
If you have any questions about how we treat issues like TMJ disorder and bruxism with a custom oral appliance, then contact our team today.
Do You Have Questions About Our Preventive Oral Appliances?
We would like to help you avoid the onset of regular headaches and jaw pain. If you have questions about our custom oral appliance treatments, then contact our Syosset, NY dental office today at 516-433-2211.