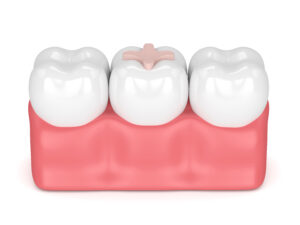 When you have a cavity in your smile, this could eventually lead to tooth aches, or even an infection or the loss of your teeth. Which is why treatment in the early stages is so valuable. In today's blog, your Syosset, NY, dentist talks about recognizing tooth decay, and how we can help with a dental filling.
The Causes of Tooth Decay
Tooth decay forms in the dentin, the sensitive layers that make up most of your tooth structure. These are usually protected by the outer enamel, but poor oral hygiene habits and a diet high in sugar and starch create plaque buildup as this could weaken and erode the enamel to expose the dentin to bacteria. The decay will grow and spread without treatment, and needs to be addressed to avoid the onset of infection or in extreme cases, the loss of the tooth. When you encounter toothaches or tooth sensitivity, you should let us know right away.
Placing a Dental Filling
We begin with a diagnosis, using digital imaging to identify the position and extent of your decay. From there, we will numb the tooth to keep you comfortable as we remove decay. We then apply the filling material. Instead of metal, we opt for composite resin, which is metal-free and has the ability to be color-matched to blend with your smile. This means a lifelike appearance and long-lasting restoration for smiles of all ages. After we place the material, we cure the composite resin beneath a special light. The last step is to polish the teeth, providing a smoother finish and a brighter appearance. The entire process only takes one visit, and helps secure your smile against infection.
Avoiding the Onset of Cavities
You can also take steps to help lower the risk of tooth decay. For example, cut back on the sugary sweets and sodas, and consume fewer foods high in starch. Make time to brush in the morning and again at night for two minutes, and always floss every evening as well. You should also make appointments to see us for a checkup and cleaning every six months too. There is still time to schedule your last checkup and cleaning of 2022, so you can use your remaining dental insurance benefits before they expire at the end of the year. If you have any questions about treating or preventing cavities, then contact our team today to learn more. End 2022 with a healthier smile!
Do You Have Questions About Addressing Cavities?
Our team wants to help treat the onset of cavities with a lifelike dental filling. If you have questions about treating cases of cavities, then contact our Syosset, NY dental office today at 516-433-2211.