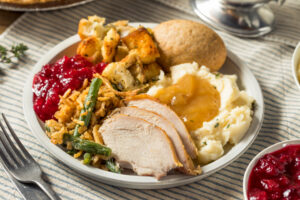 Without treatment, cavities could lead to worsening pain and even the onset of infection. Which is why we urge people to take precautions during the holiday season! Many of our Thanksgiving favorites could lead to tooth decay. In today's blog, your Syosset, NY, dentist offers tips for protecting smiles from cavities during the holidays.
The Link Between Thanksgiving and Cavities
When we sit down for a holiday meal, our favorite fishes are often high in starch, such as stuffing, mashed potatoes, biscuits, rolls, and more. Our desserts of course have a ton of sugar in them, including cobblers, pies, cookies, and cakes. When we consume them, these ingredients stick to the tooth and will be broken down by bacteria. The result is a layer of plaque coating the teeth and weakening the outer enamel. Cavities form, which grow in severity with time and could lead to discomfort and even infection. Which is why action is necessary to help safeguard your smile.
Ensuring a Healthy Meal
Start by eating items high in sugar and starch with moderation. You can also add fresh fruit and vegetables to your plate for balance. Some fresh items, like carrots, broccoli, and apples, are rough enough to help scrub away plaque and food particles as you consume them. We also suggest drinking water with your meal, which helps cleanse the smile of trapped food particles. After your meal, you and your family could take time to floss too!
Be sure you practice good oral hygiene habits during the week too. This means you should start and end each day by bruising for two minutes. Use a fluoride toothpaste when you do, as this helps strengthen the outer layer of enamel. You also need to floss in the evening to remove what a toothbrush alone cannot reach.
Checkups and Cleanings
You still have time to see our team for a checkup and cleaning visit! Our team will closely examine the smile for signs of trouble, and offer treatment in as little as one visit in some cases. We also clean the teeth, removing all plaque and tartar before they weaken enamel or enamel gum tissues. You should see us soon so we can offer care before the holiday season becomes too stressful, and before your 2022 dental insurance benefits expire. If you have any questions about protecting smiles of all ages during the holiday season, then contact our team today to learn more.
Do You Have Questions About Staying Free of Cavities?
Our team wants to ensure you and your family enjoy your holidays without developing cavities. If you have questions about protecting smiles from the onset of tooth decay, then contact our Syosset, NY dental office today at 516-433-2211.