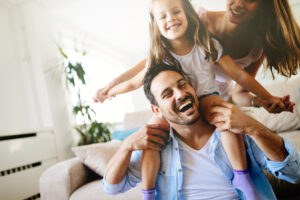 We believe in a preventive approach to dental care, so we can help kids and adults alike avoid the onset of tooth decay and other common oral health issues. In today's blog, your Syosset, NY, dentist talks about how we implement these treatments, and when you need to see us for preventive visits.
Dental Checkups
A dental checkup is a chance for our team to sit you down and carefully examine your mouth with advanced imaging technology. With digital x-rays and intraoral cameras, we will be able to see the surfaces of your teeth and gum with incredible detail, and also examine your roots, jaw, and oral structures too. Our team then makes a diagnosis with accuracy and precision, so we can identify any areas of concern and create a treatment plan to address them before they threaten a tooth's stability. For expel, we will look for signs of tooth decay, infection, gingivitis, and gum disease. For adults, we also screen for oral cancer and watch for the signs of TMJ disorder and bruxism (teeth grinding). For children, we want to make sure the smile is growing and developing properly, as complications with the loss of baby teeth and the eruption of permanent ones could lead to misalignment.
Dental Cleanings
This visit also involves our team providing a thorough dental cleaning too. A dental cleaning means we have used an ultrasonic scaling device and a manual tool to break up and remove all plaque and tartar buildup from the smile. This buildup could lead to cavities and periodontal issues, as well as bad breath and teeth stains. Which is why removal is beneficial for people of all ages, from kids to adults. If you have warning signs of gingivitis or gum disease, we could use a deep cleaning, which also cleans the roots, to help manage the disease and safeguard your smile.
Preventive Treatments
We could also assess your risk of sleep apnea, TMJ disorder, and bruxism, and treat it with the assistance of a custom-made oral appliance. For children, we can also help with fluoride treatments and dental sealants, which are preventive treatments that help strengthen the outer enamel and lower the risk of cavities. If you haven't seen us in a few months, we recommend scheduling a visit now. We would love to help you and your loved ones continue to enjoy good oral health and bright smiles. If you have any questions about our approach to preventive dental care, then contact our team today.
Syosset Dental Offers Laser Technology
Our team wants to help you and your whole family maintain good oral health. If you have questions about taking a preventive approach to your smile, then contact our Syosset, NY dental office today at 516-433-2211.