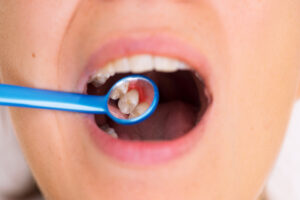 Our gums frame our smile, and help keep our teeth in place. Which means the presence of periodontal disease could put your smile at risk for tooth loss unless the disease is properly managed. In today's blog, your Syosset, NY, dentist talks about protecting your periodontal health.
Gum Health and Tooth Loss
Periodontal disease is actually the most common cause of tooth loss! In the advanced stage, known as periodontitis, this disease could lead to the tissues that connect the teeth and gums being destroyed, leading to loosened and missing teeth. With tooth loss comes a risk of major complications, incising an aged appearance, additional missing teeth, and issues eating and speaking. 
Warning Signs of Trouble
The disease develops due to inflammation, also known as gingivitis, remain untreated. Without treatment, this causes the gums to pull away from the teeth and form deep pockets for bacteria to enter, leading to the disease. While inflammation can be prevented, the disease cannot and instead needs to be managed to prevent periodontitis. Warning signs include sore, red gums that bleed easily, as well as swelling or possible recession. Causes vary, but are often related to your oral health. Poor oral health means plaque buildup, which irritates and inflames the gum tissues. Other factors include certain medications, inflammatory illnesses, tobacco use, and a family history of the issue. 
Protecting Your Smile From Disease
To help your smile stay strong, be sure you see us every six months. Our team can examine your smile to catch the earliest stages of gingivitis and offer treatment. We also clean the teeth, a process that removes all plaque and tartar from the smile. At home, you should brush and floss daily. Flossing is essential because this removes the bits of food trapped between the teeth or along the gum line. These are often out of reach for your toothbrush, and could be a major factor in plaque buildup and inflammation. You should also avoid tobacco products and cut back on sugary foods and drinks, which feed harmful oral bacteria. If we find signs of inflammation or the early stages of the disease, we could recommend a scaling and root planing to remove buildup from the teeth and the roots in one to four visits. 
If you have any questions about treating periodontal disease or preventing it from forming, then give us a call today. We want to help you maintain a strong and healthy smile!
Syosset Dental offers Treatment for Periodontal Disease
Our team wants to help you enjoy good oral health with routine preventive care. If you have questions about your periodontal health, then contact our Syosset, NY dental office today at 516-433-2211. We would love to help your kids start 2022 with a stronger and healthier smile!