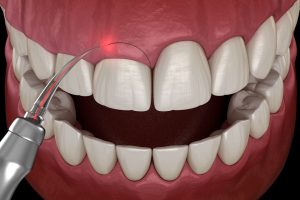 When you show off too much gum when you smile, this is often referred to as a gummy smile. The excessive gingival display could alter the appearance of your smile's alignment, and also make you feel self-conscious about showing off your smile. Fortunately, your Syosset, NY, dentist has a cosmetic treatment to safely and comfortably reshape the gum line using advanced laser dentistry!
"Gummy Smiles"
Excessive gingival display could make your teeth appear small or uneven, and could be the result of issues with the growth and development of your smile. This could also be a sign of gum inflammation, often the early indicators of periodontal disease. If you have these concerns, then contact our team to schedule a cosmetic consultation. With digital technology, we will carefully examine your smile to assess the severity of your esthetic issues, and identify the factors behind them. From there, we will decide if gum contouring is right for you!
The Contouring Process
The process actually employs advanced laser technology instead of scalpels and sutures. Using a concentrated beam of light, we can perform the procedure with greater accuracy and precision, and also ensure better comfort for our patients. The procedure will use the laser to trim away excess tissues, and reshape the gum line to boost symmetry and facial esthetics. This helps lengthen the appearance of teeth, and correct factors that could make your smile appearance uneven.
The Laser System
The dental lasers mean we don't need to administer anesthesia or sedation, and that treatment only takes one visit to complete. The results are esthetically-pleasing, and you will experience little to no bleeding. Since the laser cauterizes the area, this means a significantly reduced risk of infection and a faster healing period. The system also destroys harmful oral bacteria to prevent complications too. You will likely need to rest for the day and enjoy soft food items, but after a day you should be able to return to normal activities! Of course, no need to sutures either.
Care for Periodontal Disease
The system could also help address more severe cases of periodontal disease. The laser can remove diseased tissues and fight oral bacteria. Afterward, we can help manage your periodontal issues with routine cleanings every three to four months. If you have any questions about how we approach cosmic issues or treat periodontal concerns with advanced laser dentistry, then please contact our team to learn more! We want to help you enjoy optimal oral health.
Do You Want to Learn More About Gum Contouring?
Esthetic issues are not just limited to the appearance of your teeth, which is why the team at Syosset Dental in Syosset, NY offers cosmetic gum contouring. Contact our office at (516) 433-2211 to schedule your appointment today.