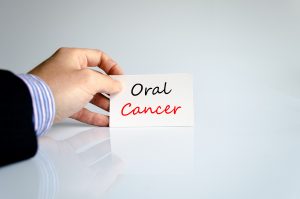 We want to make sure that you make time for your oral cancer screening, and that you always attend your checkups so we can administer one! After all, over 53,000 will be diagnosed with the disease this year alone. In today's blog, your Syosset, NY, dentist will talk about how we screen your smile for oral cancer, and what symptoms you should be aware of.
The Warning Signs and Causes of the Disease
People with the disease may notice changes to their voice, unexplained weight loss, or even a hoarseness that doesn't pass after two weeks. Other warning signs include sores and lesions that don't heal after a week, persistent sore throat, and areas of the mouth with rough patches or red and white splotches. You could also experience changes to how your teeth fit together, or a persistent earache. If you encounter one or more of these symptoms, or any other noticeable changes to your smile, then please let us know right away!
The disease could form for a number of different reasons, including age, the use of tobacco products, excessive alcohol consumption, excessive UV light exposure, or a family history of oral cancer. If one or more of these factors describes your experiences, then we urge you to see us for a checkup!
Screening Your Smile
During each of your six-month checkup visits, we will take time to look at your cheeks and the interior of your mouth for possible signs of cancerous and precancerous areas. If we discover such areas, we could refer you for a biopsy and possibly, treatment. Did you know that of the 53,000 people diagnosed this year alone, half will succumb to the disease after just five years? The main factor behind the high mortality rate is the fact that the issue is rarely caught until the late stages. But if you see us for exams every few months, then we have a much greater chance to find the issue early, increasing your chances of a full recovery.
Better Habits at Home
At home, try to better manage your UV light exposure, and be sure to wear sunscreen. Even on cloudy days, your skin is still exposed! We also recommend you avoid tobacco products, as in addition to oral cancer, they put you at the risk of halitosis, stained teeth, emphysema, and lung cancer. Try to manage your alcohol consumption to healthy levels too. If you have any questions, or if you need a screening, then contact our team today.
Do You Have Questions About Preventive Dentistry?
We want to help you avoid serious oral health issues, which is why the team at Syosset Dental in Syosset, NY provides thorough dental checkups and even oral cancer screenings. Contact our office at (516) 433-2211 to schedule your appointment today.