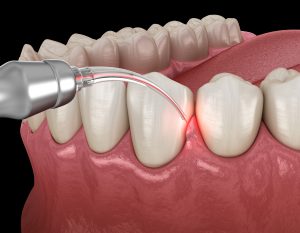 In our last blog, we talked about the value of using digital dentistry to examine your smile and make a diagnosis with precision. But we also use other technologies to provide quality, comfortable care. In today's blog, your Syosset, NY, dentist will discuss how we use advanced dental lasers to detect cavities and offer cosmetic and restorative care!
Your Initial Exam
No matter what issue you may be seeing us to address, whether you have a toothache, missing tooth, or would like to discuss the possibility of cosmetic improvement, everything starts with an initial exam. With a checkup, we take a close look at your smile to assess the current state of your oral health. From there, we will craft a treatment plan to help improve the function, health, and beauty of your smile. With laser dentistry, we use a concentrated beam of light to not only help diagnose your smile, but to also offer a variety of treatment options.
Detecting Cavities in Early Stages
With the DIAGNOdent laser system, we use a tool that is narrow and shaped like a pen to screen the teeth comfortably. We then compare the baseline wavelengths of healthy teeth to what we find, to see if you have the earliest stages of demineralization, or weakened enamel. In fact, we may not even need to use digital x-rays at all! The exam means we can offer care to halt the rate of decay and protect your tooth, or place a filling that blends with the tooth. You avoid the onset of major decay, and avoid issues like infection too! We could even address the cavity without you suffering a toothache or tooth sensitivity!
Our Soft-Tissue Diode Laser
We also have a soft-tissue laser that is specially calibrated to address issues with your teeth and gums. We can offer treatment with care and precision, and you often require no anesthesia other! We can use them to offer a soft tissue biopsy, perform a gum lift or contour the gum line, offer crown lengthening, and create more advanced stages of periodontal disease. The system not only offers care with accuracy, but helps prevent swelling, bleeding, reduces sensitivity, and helps facilitate a fast healing period. You then return to your normal daily activities much quicker!
If you have any questions about the use of lasers to improve the function, health, and appearance of your smile, then contact our team today to learn more.
Do You Have Questions About Laser Dentistry?
Our team wants to make sure each patient receives care with comfort and precision, which is why the team at Syosset Dental in Syosset, NY provides treatment with advanced laser dentistry. Contact our office at (516) 433-2211 to schedule your appointment today.