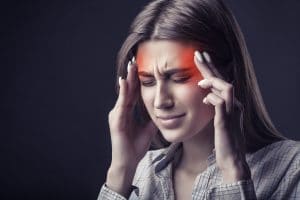 Do you often experience chronic headaches or regular pain in your jaw? These uncomfortable developments could potentially mean the presence of serious oral health concerns like TMJ disorder and bruxism. In today's blog, your Syosset, NY, dentist explains the causes and complications related to these disorders, and how we can offer relief with an oral appliance.
Headaches and Jaw Pain
The temporomandibular joints connect our skull and jaw, and are crucial for the movements necessary to eat and speak. However, when these joints undergo excessive strain, the results could be disorders like TMJ dysfunction or even chronic teeth grinding, known as bruxism.  When these issues develop, this could mean painful symptoms, such as headaches and migraines. Other warning signs could include popping or clicking in the jaw, aches in the jaw or face, and for those who grind their teeth, persistent tooth sensitivity and toothaches too.
Causes of TMJ Dysfunction and Bruxism
When the joints become strained, this could mean TMJ disorder, eventually causing trouble opening and closing the mouth fully. Factors behind TMJ trouble could include missing teeth, bite imbalance, dental misalignment, injury to the face or jaw, or untreated bruxism. With bruxism, people grind and clench their teeth on a regular basis, and the causes could include many of the same factors behind TMJ disorder, as well as high levels of daily stress and yes, untreated TMJ issues. Over time, the pressure from these oral health concerns could even mean damaged teeth and a higher risk of tooth decay and dental infection.
Treatment with Oral Appliance Therapy
For many cases, we have a comfortable and noninvasive solution to bring relief to both TMJ disorder and even moderate cases of bruxism. To begin, we will gather detailed images and measurements of your smile, which will be employed to design and custom-fit an NTI appliance or similar oral appliance. Essentially, the device will fit like a mouthguard and be worn as you sleep. The device then eases the discomfort of symptoms by repositioning the jaw to relieve pressure. If you happen to grind your teeth, the device helps prevent further damage by placing a barrier between the upper and sets of teeth. However, if the appliance fails to properly address your symptoms, then we may suggest a specialist.
If you have any questions about treating poor oral health with a custom-fitted appliance, or about any potential symptoms of the jaw joint disorders we discussed in today's blog, then contact our team today.
Do You Have Questions About Preventive Dentistry?
Pain in your head or jaw could mean the presence of serious oral health issues, which is why the team at Syosset Dental in Syosset, NY provides an array of preventive treatment options. Contact our office at (516) 433-2211 to schedule your appointment today.