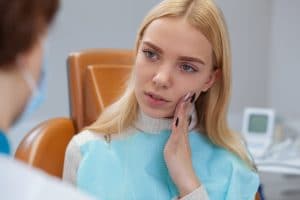 Sometimes, dental emergencies aren't what you expect. On one hand, you may think your current concerns are not that serious, and addressing them can be put off. On the other hand, you may think you have an emergency that turns out to be much less serious than you expected. Today, we take a look at how to know if your dental concern is an emergency, and if it warrants an immediate dental appointment and treatment.
Sudden and severe tooth pain
It's true that no toothache should ever be ignored, but not every toothache is considered an emergency situation. For example, your tooth might be sensitive because you need to improve your hygiene routine, or because a piece of food has become lodged between it and another tooth. However, if you experience sudden and severe tooth pain, then the cause may be of a more serious nature, and therefore, might pose a more immediate threat to your oral health. After a thorough exam and diagnosis, we can help you determine the cause of your severe tooth pain and recommend an appropriate treatment plan to restore the tooth and save your smile.
Trauma to your face or oral structures
A traumatic injury to face and/or oral structures is almost always an emergency situation, and depending on the extent of damage, your dentist or oral health specialist may be the best person to turn to. Such injuries can differ greatly in how severe they are and what areas of your face or oral structures they impact. However, in many cases, an injury in one area can have potentially serious consequences for the health and integrity of other related facial and oral structures. During your visit, a careful and detailed examination, including highly detailed digital imaging, can help us determine the exact nature and extent of your injuries. If necessary, your treatment may require a team effort between your general dentist and one or more oral/maxillofacial specialists.
Profuse bleeding of your oral tissues
When you notice a slight amount of blood mixed in with your saliva and toothpaste when you brush your teeth, the cause is often gingivitis, the early stage of gum disease. This can be a serious warning of a condition that can eventually become much more severe, but can usually be addressed successfully during your next preventive appointment. However, if you notice that your gums and/or other oral tissues begin bleeding profusely, even without the application of pressure, the cause may be more significant and immediate than early gum disease.
Learn more about emergency dental treatment
If your oral health concern is an emergency, then you should seek treatment for it as soon as possible. To learn more, contact our office by calling Syosset Dental in Syosset, NY, today at 516-433-2211 or 516-921-1678.