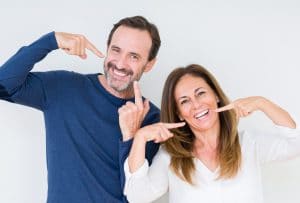 If you have multiple concerns with your smile, then it isn't advisable to just focus on one and ignore the rest. For example, if you have one tooth that's chipped or fractured, another that's infected with decay, and several more that are out of alignment, then each issue could be equally threatening to your overall oral health. A custom-designed full-mouth rehabilitation plan is one that takes all of your smile's concerns into account, and focuses on improving your smile's overall health, bite function, and appearance in a conservative matter.
An accurate diagnosis and treatment design
Designing any dental treatment first requires a comprehensive examination and diagnosis, which we perform using advanced digital imaging technology such as digital X-rays and 3D imaging. During your examination, we'll carefully diagnose each of your smile's concern and consult with you to determine the best way to address them. For example, highly noticeable issues with your tooth structure may be accompanied by less easily noticeable concerns, such as bruxism or TMJ disorder. Digital imaging allows us to more precisely plan your smile rehabilitation and design treatments that not only improve your oral health but also addresses conditions that could be inhibiting your bite's proper function.
Starting with the foundation
Once we know exactly what issues your smile faces, we can begin planning your treatment, starting with your smile's foundation. For example, if you have gum disease (the leading cause of adult tooth loss), then one of the first steps may be to treat and manage the disease. This will help us preserve the gum tissues, periodontal ligaments, and jawbone structure that support your smile and help you avoid any future damage to these structures. If you exhibit signs of chronic teeth-grinding (bruxism) or trouble with the movement of your jaw joints (TMJ disorder), then we may also recommend addressing the bite dysfunction before restoring the rest of your smile.
Customizing your smile rehabilitation
With your smile's foundation secure, the nest step in its rehabilitation will be to restore any teeth that have become damaged, infected with decay, forced out of alignment, or otherwise compromised. This may include the use of tooth-colored composite resin to discreetly treat a cavity or restore a chipped tooth, one or more porcelain veneers to improve your smile's contour and fortify fractured teeth. One or more partial or full porcelain dental crowns might also be recommended, depending on the extent of damage that your teeth exhibit.
Learn about full-mouth rehabilitation
Sometimes, improving your smile means fully rehabilitating your overall oral health, bite function, and more. For more information about how you could benefit from custom, full-mouth rehabilitation, schedule a visit by calling Syosset Dental in Syosset, NY today at 516-433-2211 or 516-921-6930.