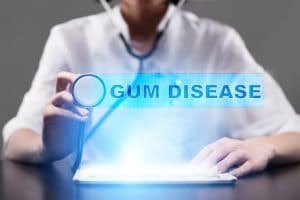 Gum disease is often the kind of thing that people don't think about until they have to. Despite the fact that it affects a majority of adult patients, it can seem insignificant (or remain completely undetected) in its earliest stages. However, once it reaches its more advanced stages, gum disease can become more severe and its symptoms increasingly more prominent. Fortunately, patients in Syosset, NY, can successfully deal with gum disease and its potential lifelong effects with help from their dentist.
It can lead to tooth loss
Tooth loss can seem like the biggest concern when it comes to untreated gum disease. After all, it's the leading cause of tooth loss for adults in the U.S. That's because the destruction it causes, which centers of your gums and jawbone structure, can leave one or more of your teeth without adequate support. By the time some patients seek treatment, tooth loss has already occurred, or is so imminent that the dentist may recommend tooth extraction before addressing the underlying gum disease.
It's a chronic disease
One of the reasons why gum disease is so prominent is because, in many cases, it can't be cured. Though it's a chronic disease, patients with advanced gum disease can still preserve their smiles by keeping it under control. This may require an initial deep cleaning (scaling and root planing) procedure to remove harmful oral bacteria from underneath your gums. Then, you may require specialized periodontal treatment to remove diseased tissues and allow your healthy gums to heal. Keeping gum disease under control will require continued attention, care, and maintenance from your dentist, as well as a consistently good hygiene routine at home.
It can raise overall health risks
When patients experience severe gum disease, the rampant inflammation that plagues their gums can also become a notable health risk. Inflammation is controlled by your immune system, and in the case of gum disease, that control is hindered, leading to uncontrolled inflammation in your gum tissues. If left unchecked, this could affect your risks of chronic inflammation in other areas of your body, which could increase your chances of developing health conditions such as cardiovascular disease.
Learn how to deal with gum disease
Gum disease can become a lifelong concern if it develops, but you can still lessen and control its effects with regular dental health care and maintenance. For more information, schedule a consultation by calling Syosset Dental in Syosset, NY today at 516-433-2211 or 516-921-6930.