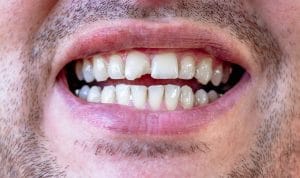 When you take consistently good care of your teeth, they remain the strongest parts of your body. Covered by highly resilient tooth enamel – an incredibly strong layer of mineral crystals – healthy teeth can withstand an immense amount of bite pressure repeatedly every day. However, in many types of dental emergencies, a tooth may break due to excessive force and pressure. For patients throughout Syosset, NY, a broken a tooth should be fixed as soon as possible to restore its health and integrity, as well as its ability to continue functioning properly.
Determining the Extent of Damage
Tooth damage comes in a variety of shapes and sizes, with a break being one of the more severe types. Unlike a crack/fracture in your tooth, a break means that part of the tooth has completely come off, which means its entire structural integrity may be at risk. A break can also cause varying levels of discomfort, which are usually more severe than more minor types of tooth damage. To determine the exact extent of your tooth's damage, your dentist will first perform a comprehensive examination, including the use of highly detailed digital and 3D imaging to ensure the most accurate results. Then, your dentist can custom-design the most appropriate solution for restoring the broken tooth.
Finding the Most Conservative Solution
The secret to successfully fixing a broken tooth is to strengthen and protect the healthy tooth structure that remains. In some minor cases, that may be as simple as replacing the broken portion with a lifelike porcelain veneer or partial crown (inlay or onlay). However, a more significantly broken tooth could require a complete dental crown to cap and protect the entire tooth. A porcelain crown can be crafted to closely mimic the tooth's size, shape, and ability to fit in with the teeth that surround it. Once placed, the crown will prevent your tooth from sustaining further damage or from interrupting your bite's function.
Fix Your Broken Tooth as Soon as Possible
Even if your broken tooth doesn't hurt as bad you might expect, the damage it has sustained is still a serious threat to its health, integrity, and ability to function properly. For more information, or to find out how best to fix your broken tooth, schedule a consultation by calling Syosset Dental in Syosset, NY today at 516-433-2211 or 516-921-1678.