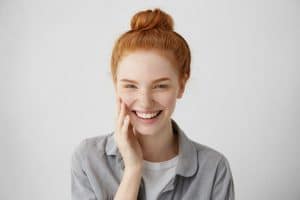 The best thing about most cosmetic dental procedures is that they're custom-designed to address your specific smile concern. However, the biggest benefit of porcelain veneers is that they can simultaneously correct multiple different concerns. For patients in Syosset, NY, who wish to transform their smiles without having to undergo extensive dental treatment, that ability means they can minimize their complete smile makeover to just one procedure. In addition to spending to less time in the dentist's chair, veneers also help patients by preserving more of their healthy, natural tooth structure.
How Porcelain Veneers Are Designed to Work
A porcelain dental veneer is a thin shell that is crafted according to detailed, highly accurate measurements of your tooth's front surface. The veneer replaces this surface when your dentist bonds it to the tooth, creating a lifelike, blemish-free appearance. After your dentist prepares the appropriate teeth by lightly sculpting a small amount of their enamel, he will take several digital images and measurements of them that will be used to custom-craft each veneer. Besides matching each tooth's size, shape, and contour, the porcelain for each veneer will also be tinted and layered to mimic each tooth's natural color, shade, and ability to reflect light.
The Ability to Completely Transform Your Smile
Their customized and realistic appearance makes veneers an esthetically pleasing solution, but their ability to transform your smile almost instantly is what makes them one of the most-often recommended smile makeover procedures. Because veneers are designed to transform the visible surfaces of your teeth, they can address issues such as severe discoloration, chipped or cracked surfaces, and more easily and conveniently. Dental porcelain is also resilient enough to withstand the pressures of biting and chewing, making them as durable as they are cosmetically attractive.
Makeover Your Smile with Custom Porcelain Veneers
The way porcelain veneers can recreate the healthy, blemish-free appearance of your teeth with minimal effort makes them ideal for many custom smile makeover procedures. For more information, schedule a consultation by calling Syosset Dental in Syosset, NY today at 516-433-2211 or 516-921-1678.