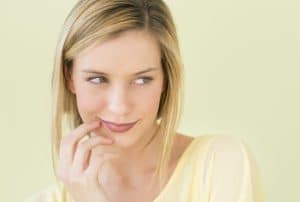 One of the greatest advantages of porcelain veneers is their ability to correct a wide range of cosmetic dental issues without requiring extensive treatment. For instance, rather than needing tooth bonding for a chipped tooth, a dental crown for a cracked one, and teeth-whitening to brighten them, an appropriate number of lifelike veneers can correct them all. In some cases, veneers may even be able to straighten an imperfectly contoured smile by addressing issues such as minor misalignment, crooked teeth edges, and more.
The Nature of Tooth Misalignment
Malocclusion, or tooth misalignment, describes a condition in which one or more teeth do not align correctly with the contours of your other teeth. Many cases involve the improper growth and development of teeth, or the forceful misalignment of already developed teeth, and therefore require orthodontic treatment to correct. However, many patients suffer the appearance of a crooked smile even though the teeth in question are only slightly out of alignment, or have cosmetic blemishes that affect their contours.
Benefiting from Custom-Designed Veneers
The reason why veneers can address multiple issues at once is because each custom-designed, highly lifelike shell is permanently bonded to the front surface of a tooth. The veneer's goal is to completely revamp the tooth's appearance by creating a brand new face for it. In minor cases of tooth misalignment, this means one or more veneers can straighten your smile by instantly correcting the blemishes that throw your bite off balance. To find out if they can straighten your smile, your dentist will first perform a comprehensive exam (including digital X-rays and imaging) to ensure that orthodontic treatment isn't required.
Find Out if Veneers Can Straighten Your Smile
Among their many other benefits, porcelain veneers can also correct minor cases of tooth misalignment to perfect your smile's contour. To learn more, schedule a consultation by calling Syosset Dental in Syosset, NY today at 516-433-2211 or 516-921-1678.