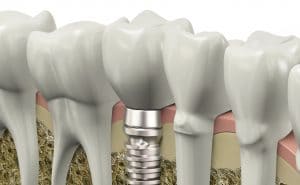 After losing one or more teeth, the most important step to preserving your smile is to replace them. Besides the improvement to your smile's appearance, replacing lost teeth also restores your bite's function and reduces your risk of other dental issues. Compared to traditional options like dental bridges and dentures, dental implants can offer a wide variety of benefits for restoring your smile. From improved comfort and stability to better long-term oral health following tooth loss, the benefits of dental implants often make them the ideal tooth replacement option. 
How a Dental Implant Works
A dental implant is a small, biocompatible post, usually made from titanium, which is surgically inserted into the jawbone. Each post is designed to mimic the functions of a healthy, natural tooth root, such as supporting the visible portion of your restoration. With this support, you won't have to prepare your healthy tooth structure to hold a traditional bridge or rely on adhesives to keep a denture in place. You can also enjoy a healthier and stronger jawbone thanks to the stimulation that dental implant posts provide when you bite and chew.
Preserving Your Smile
One of the less obvious consequences of tooth loss is the slow erosion of your jawbone due to lack of nutrients. Following the loss of a tooth root, your body responds to the reduced stimulation by sending your jawbone fewer and minerals and nutrients. Even after replacing their lost teeth with a bridge or denture, many patients still experience jawbone erosion because their prosthesis cannot adequately restore jawbone stimulation. In addition to offering better support for your dental prosthesis, implants can also better preserve your jawbone's health and integrity, which improves your long-term oral health.
Find Out if You Can Benefit from Dental Implants
In addition to their immediate benefits of improved comfort and stability, dental implants also provide a host of benefits for your long-term oral health. To learn more, schedule an appointment by calling Syosset Dental in Syosset, NY today at 516-433-2211 or 516-921-1678.