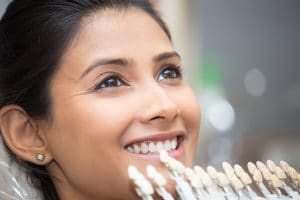 In the world of cosmetic dentistry, porcelain veneers are simultaneously among the most lifelike and the most versatile smile enhancements. Made from highly realistic dental porcelain that's customized to match the appearance of your teeth, cosmetic veneers are able to address several different aspects of your smile's appearance at once. Today, we take a look at just a few of these aspects, and how porcelain veneers can improve your smile faster and with more satisfying results than patients often expect.
1. Make your teeth uniform.
When it comes to your smile, uniformity is beauty. Your teeth should look the same in color, tint, and texture, and when they don't, the cosmetic effects can be dramatic. For many patients, there are several different reasons for the change (i.e., severe tooth stains, rough patches of enamel, or minor scratches on the surface). With porcelain veneers, your dentist can almost instantly make all of your teeth uniform in appearance, without the need for multiple cosmetic treatments.
2. Rebuild teeth without restorative treatment.
When a tooth is chipped, worn down, or cracked, restorative dental treatment (such as a dental crown) may be necessary to fix it. In many cases, though, the damage can be rectified and the tooth restored with a less invasive, but equally effective, porcelain veneer. Placing the veneer over your tooth prevents the need to modify the whole tooth for a crown, allowing you to preserve more of your healthy, natural tooth structure.
3. Straighten teeth without orthodontics.
Tooth alignment is related to the uniformity of your smile's appearance as well as the proper balance of your bite. When crooked, teeth often require orthodontic treatment to straighten them. Yet, when teeth are only slightly out of alignment, your dentist may be able to correct their appearance with one or more porcelain veneers.
Learn if Porcelain Veneers Can Improve Your Smile
With an appropriate number of porcelain veneers, you can correct virtually any concern you may have about the appearance of your smile. To learn more, schedule an appointment by calling Syosset Dental in Syosset, NY today at 516-433-2211 or 516-921-1678.