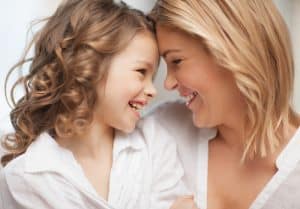 It's no secret that, for most people, their dental hygiene routine was taught and instilled in them by their parents. However, how much of a parent's influence, or genetic makeup, determines the look, strength, and health of your smile? Your hair, eyes, facial symmetry, and even serious health issues and risks are largely inherited from your parents. Research suggests that the same hereditary DNA can determine your predisposition for certain oral health issues, including tooth decay and gum disease. Today, we explore how nature and nurture work to define the life of your smile.
The Tenants of Good Dental Health
The most obvious influence that your parents have on your smile is the fact that they were responsible for teaching you how to properly care for your teeth and gums. If you were never taught that your teeth could decay and fall out without care, you may not even know that you should brush your teeth, or bother to learn. Fortunately, as children, many of our parents taught us that keeping our smiles healthy, happy, and strong meant brushing and flossing our teeth at least twice a day, as well as visiting the dentist regularly.
The Genetic Makeup of Your Smile
The genes you inherit from your parents determine your overall appearance, such as your height, facial features, and often your weight. The shape and composition of your smile is also dictated by your DNA, and your risk for certain dental problems, like crooked or weak teeth, propensity for cavities, or risk of gum disease, may have been acquired from your parents, as well. With a regular schedule of expert dental care, you can have a better chance of overcoming such challenges and maintaining your healthy, beautiful smile for life.
Take Control of Your Long-Term Dental Health
Even if your parents' DNA makes proper oral health a challenge, a healthy mouth is not impossible. To learn how you can optimize your dental health care for your specific needs, schedule a consultation with your dentist by calling Syosset Dental in Syosset, NY today at 516-433-2211 or 516-921-1678.