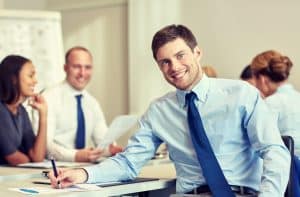 As a universal sign of pleasantness, many people can automatically comprehend the joy and confidence in a smile. In fact, most people don't need to be told that smiling makes them seem more attractive and approachable than frowning. A beautiful, vibrant smile can spread and lighten the mood around you, and there are many other benefits that stem from keeping your smile consistently healthy and beautiful. If your confidence in your smile is affected by its appearance, then your dentist can help you regain your self-esteem by improving your smile with a custom cosmetic dentistry treatment.
How Smiling Benefits You
Aside from making others smile with you, your smile serves several subtle but important social functions. As one of the dominant and most expressive features of your face, your smile can speak volumes without you actually saying a word. One of the most beneficial signals your smile can send is confidence; when you show your smile easily, you appear at ease and more comfortable in your own skin. Most people can subconsciously detect your smile's subtle messages and pick up on the self-assurance it exudes. This can noticeably improve your social, personal, and professional interactions, and consequently, your overall quality of life.
Perfecting Your Smile with Cosmetic Dentistry
Of course, a smile can only show its true potential when you display it to the world as often as possible. For some people, this isn't an option due to embarrassment from one or more tooth blemishes. Whether your smile is marred by severely stained teeth, chips and cracks, odd spaces, or any other dental issue, your dentist can develop a customized plan to restore your confidence in your smile.
Let Us Improve Your Smile's Appearance
Showing off your smile proudly and confidently can have a number of benefits in your social and professional life. To learn how cosmetic dentistry can improve your smile, schedule a consultation with your dentist by calling Syosset Dental in Syosset, NY today at 516-433-2211 or 516-921-1678.