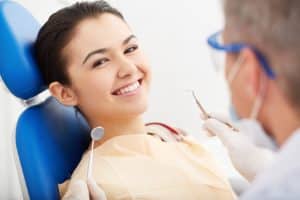 If your tooth cracks or fractures, or if it develops a cavity and needs a filling or root canal treatment, then you may need a dental crown to restore it. A dental crown is a manmade replica of the top portion of your tooth, or the natural crown, and caps the tooth to protect it when it's damaged or treated for disease. While they excel at restoring the appearance and function of your teeth, the most important benefit for many patients is how much trouble dental crowns can prevent them from experiencing in the future.    
The Benefits of Customized Care
At Syosset Dental, our doctors and team are dedicated to providing high-quality, conservative dental care to all of our patients. Before recommending treatment, we'll fully explain your condition and your options for treating it, and we never recommend a procedure that's unnecessary. Personalized care helps keep the cost of your restoration manageable, and helps preserve the future of your oral health to avoid more expensive dental work in the future.
Prevention Through Restoration
The purposes of a dental crown are many. As a cosmetic measure, a porcelain crown can conceal a severely blemished tooth with lifelike ceramic that mimics your tooth's color, shape, and shine. As a restorative treatment, a dental crown can absorb the pressure of your bite to protect a weakened tooth from further damage. The protection can prevent a crack or fracture from growing worse, and when coupled with a dental filling or root canal, it can prevent infectious bacteria from further invading your tooth's interior. By offering protection, a crown can help you avoid the need to extract and replace a tooth that has become severely compromised.
Find Out What a Dental Crown will Cost You
When you need a crown to restore or improve your smile, the type and design of your restoration will be selected for optimal results, both immediately and in the long-term. To find out exactly how a dental crown can help you avoid more serious issues, schedule a consultation with your dentist by calling Syosset Dental in Syosset, NY today at 516-433-2211 or 516-921-1678.