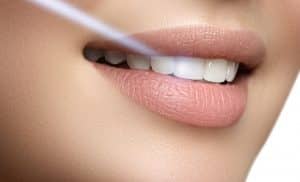 Lasers may have once seemed like a dream of the future, but today, the technology has revolutionized everything from media devices to medical and dental health care. At our dental office, for instance, our experts use specially calibrated diode lasers to perform a number of soft-tissue procedures that traditionally require a scalpel and sutures. With a laser, your dentist can produce more accurate results while making your recovery and healing time quicker and more comfortable.
The Benefits of Laser Dentistry
Laser dentistry describes the use of a high-powered but gentle laser diode trim or modify soft oral tissues—primarily, periodontal (gum) tissues. In some cases, laser technology can be used for diagnostic purposes, such as detecting cavities early or performing a soft-tissue biopsy. However, more people can benefit from laser dentistry to simplify their cosmetic and periodontal treatments, such as:
Cosmetic gum lifts
A gum lift, or gingivectomy, is the careful trimming of excessive gum tissues to create a more symmetrical and attractive smile. When your gums are uneven, which can occur for a number of reasons, the result (often referred to as a gummy smile) can have a dramatic effect on your smile's appearance. A laser gum lift can correct your smile's image by reshaping your uneven gum line.
Crown lengthening
Besides esthetic consequences, a gummy smile can also make fixing a damaged or infected tooth difficult by blocking your dentist's access to it. Crown lengthening is similar to a gum lift, but the purpose of the procedure is to reveal enough of a covered tooth's structure to allow your dentist to restore it.
If you want to benefit from quicker, more comfortable, and more precise laser dentistry, then schedule a visit with your dentist as soon as possible! Call our office in Syosset, NY today at 516-433-2211 or 516-921-6930. We proudly serve the residents of Syosset, Long Island, Nassau, Suffolk, and all surrounding New York City communities.