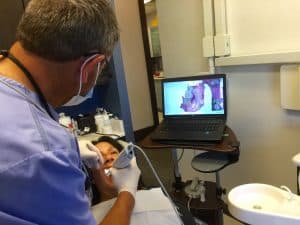 When it comes to restoring your smile, accuracy and realism are paramount. Conventional and implant-supported restorations, such as dental crowns and bridges, work best when they closely mimic the healthy, natural teeth that they're meant to restore or replace. Traditionally, planning a restoration meant spreading a gel-like substance over your teeth to capture their impression. While effective, this method is often considered cumbersome and messy, especially by patients with strong gag reflexes or who feel slightly claustrophobic. Instead, we utilize the Trios 3Shape digital impression scanner, which creates digital impressions in significantly higher detail using advanced digital imaging rather than a messy gel.
Kinder to Your Gag-Reflex
3D digital scanning is kind to patients' gag reflexes in several ways. The digital scanner eliminates the need for spreading gel over your teeth, which is a common trigger for sensitive gag reflexes. Also, your dentist can remove the scanner if your gag reflex is triggered and automatically pick up where the scanning left off!
No Re-Do's
If, for some reason, a gel impression doesn't come out exactly right, your dentist will have to reapply the gel and try again. For patients who already struggle with the process, having to redo it can prove significantly inconvenient. Digital scanning, however, gets it right the first time, which translates into a much faster and cleaner impression-making process.
Better Planning
When used in conjunction CT scanning technology, the Trios scanner allows your dentist to virtually plan your entire treatment so you can see the final results of your restoration before the procedure even begins.
Faster Restorations
In addition to making the scanning process faster, Trios' 3D scanning technology lets your dentist communicate faster with the high-end dental lab crafting your restoration. Your dentist can leave pertinent notes in the software, as well, to ensure that your custom-restoration precisely fits your unique needs and preferences.
If you need a custom dental restoration but are not excited about taking impressions, then learn more about the benefits of our Trios 3Shape digital impression scanning! Speak with your dentist today by calling Syosset Dental in Syosset, NY today at 516-433-2211 or 516-921-1678. We proudly serve the residents of Syosset, Long Island, Nassau, Suffolk, and all surrounding New York City communities.