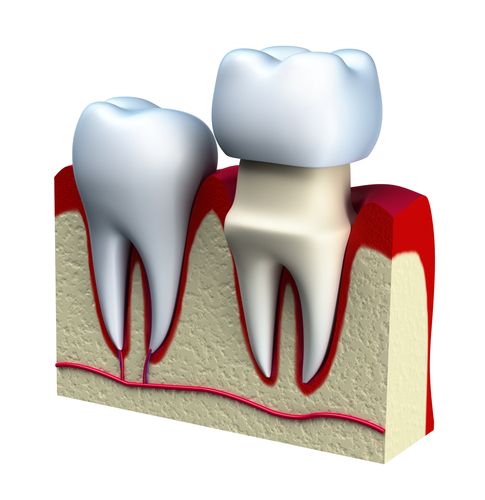 You may need a dental crown for a variety of reasons – to protect a broken tooth, to protect teeth weakened from large or deteriorated old fillings, to cover a dental implant, to support a dental bridge or for cosmetic reasons. In the past, dental crowns have been made out of materials like gold or silver. Now, they are made out of more natural-looking material such as porcelain, or in some cases, zirconia. Typically, when you smile you're able to see the damaged tooth. Using these tooth-colored materials makes for a seamless smile!
Dental Crown Benefits:
Cosmetically, dental crowns can reshape teeth, mask discoloration, and cover a dental implant in order to create a natural tooth look.
Functionally, crowns can hold together a broken tooth, protect a worn tooth, support a decayed tooth, and restore your tooth after a root canal.
How Do You Prepare For A Crown?
Before your dentist delivers your crown, your tooth must be prepared. If you're missing large portions of your tooth, your dentist may want to use a dental filling material to build it back up in order for the dental crown to fit snugly over your entire tooth.
A mold will then be taken of your tooth, so the crown fits properly. Usually, a temporary crown is placed (prior to your permanent one) while it's being crafted.
What If You Don't Need An Entire Crown?
For patients who may not need an entire dental crown, there are similar restorative options known as inlays and onlays. This restoration method is more conservative than designing an entire crown. They're usually made from the same material – porcelain – and are typically referred to as "3/4 crowns" or "partial crowns."
Inlays fit between the cusps of your tooth, working to restore the inner portion. While onlays can fit around the cusps and partially down the sides of the tooth to cover the upper portion.
ABOUT YOUR SYOSSET

, NY,

DENTIST

:

Dr. Kobak, Dr. Berk, and Dr. Diamantakis and the team at Syosset Dental offer a wide range of services designed to improve the health and beauty of your smile. They gladly serve the residents of Syosset, Long Island, Nassau, Suffolk, and surrounding New York City communities. To schedule an appointment call our office at 516-433-2211 or 516-921-1678.