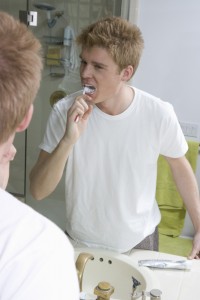 This time of year is notorious for illnesses from the common cold to the influenza virus. In fact, the Centers for Disease Control (CDC) and Prevention officially refer to this time of year as "the flu season," and this year it started even earlier than usual. When you're afflicted with influenza-like symptoms, such as fever, bodyaches, coughing, and many more, rising out of bed can seem like an Olympian's challenge. Accomplishing routine daily tasks once you've risen out of bed, including brushing and flossing your teeth, can often prove impossible. However, if you are still able to rise to use the restroom, you still have opportunities to care for your dental health. Syosset dentist, Dr. Richard Kobak, explains why you should take advantage of those opportunities every time they arise to help protect your dental health while you're sick.
While You're Away…
Even when you're healthy, bacteria grow and collect inside your mouth to form the sticky biofilm known as plaque. Many of these oral bacteria are the source of destructive oral health issues, including tooth decay and gum disease. Brushing and flossing your teeth helps control plaque buildup and inhibit bacterial gathering, reducing your risk of developing oral health issues. When you're sick with the cold, flu, or any other systemic illness, bacteria thrive under your distracted immune system, increasing bacteria's potency and ability to proliferate. You may not feel like brushing your teeth when you're sick, but if you neglect to, then bacteria and plaque will increase faster than normal, and your oral health will face a greater risk than normal, and in much less time.
Tips for Oral and Overall Health
Wash your hands thoroughly and often with antibacterial soap, and refrain from touching your eyes, nose, and mouth to help prevent the flu. Also, try to avoid close contact with people whom you know are sick, or who exhibit flu-like symptoms. If you do become ill, keep mint-flavored floss within arm's reach on the nightstand, and brush your teeth after using the restroom and washing your hands. To learn more, or to speak with your Syosset dentist, schedule an appointment with Dr. Kobak by calling our Syosset dental office at (516) 433-2211. We welcome patients from Long Island, Nassau, Suffolk, and the surrounding New York City neighborhoods.