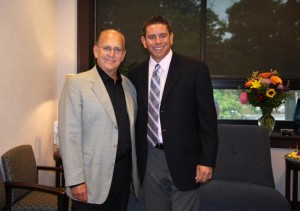 If you are a patient of Dr. Kobak's, or a regular reader of our blog, you may know that we moved into our new, state-of-the-art dental office on Jericho Turnpike last summer. Our new facility has increased the level of service and comfort that we offer our clients, and has allowed us to utilize the latest in technology for your exceptional oral health care. As a part of our growth and expansion, Dr. Richard Kobak and our staff welcome the addition of Dr. David M. Berk, his staff, and his patients to our home at Syosset Dental!
Welcome, Dr. Berk!
A native of Long Island, Dr. Berk attended Queens College, where he completed his undergraduate coursework, and earned his Doctor of Dental Surgery from the New York University College of Dentistry. Since 1974, his dedication to continued education has allowed Dr. Berk to stay ahead of the curve in providing his patients with cutting edge dental care. An active member of the American Dental Association (ADA) and a "Master" in the Academy of General Dentistry, Dr. Berk, his staff, and his patients will find a warm and welcoming home at our Syosset dental office.
New Faces, Same Great Service
Patients of Dr. Kobak's can rest assured; Dr. Berk's arrival will not cause any disturbances in your regular treatment. Dr. Kobak will continue to provide exceptional patient-focused care, and personally care for each of his patients. You will still enjoy the comfortable and innovative dental care that you have come to love and expect from your Syosset dentist. To schedule a consultation, call our Syosset dental office at (516) 433-2211. We welcome patients from Long Island, Nassau, Suffolk, and the surrounding New York City neighborhoods.