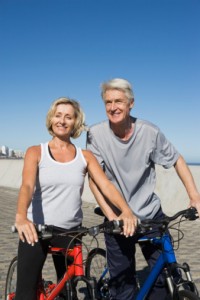 June is all about the men. Not only is June the month for Father's Day, it is also set aside to highlight preventable health issues in men and to promote the benefits of early detection and disease treatment. This National Men's Health Month, your Long Island dentist, Dr. Richard Kobak, explains the connection between your oral health and the health of your whole body.
What is Oral-Systemic Health?
Poor oral health can contribute to your risks for certain systemic diseases. Food debris and bad bacteria constantly collect in our mouths, and brushing and flossing doesn't remove all of it. If neglected, the bacteria can attack your gums, your teeth, and the connective tissue between the two. The bacteria infect and weaken your gums and teeth, leading to tooth decay and periodontal (gum) disease. When infection sets in, the trouble begins in earnest.
Gum disease leads to tooth loss and many other oral problems, but more importantly, the infection also greatly reduces the mouth's natural defenses against disease.  Bad bacteria can enter into your bloodstream through the infected soft gum tissue and circulate throughout your body. The result is a heightened risk for  heart disease, Alzheimer's disease, diabetes, and other serious health conditions. Gum disease in women can even lead to complications during pregnancy.
Long Island Dentist Can Help You Reduce Health Risks
In a recent study, men were found less likely to practice adequate oral hygiene habits than were women (49% to 57%, respectively). Protecting your body against infection and disease involves protecting your mouth with a healthy oral hygiene routine, including brushing and flossing your teeth at least twice a day. Scheduling and attending your six month dental checkups and cleanings is equally important. The earliest symptoms of some systemic diseases can show up in the form of lesions in the mouth or other oral problems. Since your dental checkup occurs more frequently than your yearly physician's exam, and since it is rare that a physician would thoroughly inspect the oral cavity, your dental checkup can prove vital to detecting symptoms of disease early, when treatment is most effective and least invasive.
To learn more about keeping your mouth healthy and strong, or schedule a consultation with Dr. Kobak, call our Syosset dental office at (516) 433-2211. We welcome patients from Long Island, Nassau, Suffolk, and the surrounding New York City neighborhoods.