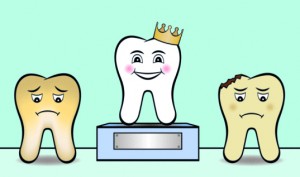 Did you know that most people will need restorative dentistry at some point in their lifetime? In fact, only 1% of people in the United States never develop a cavity. If your teeth are damaged by injury or decay, restorative dentistry restores tooth function and saves your teeth from further damage. Restorative dental procedures require thorough attention to detail. Fortunately, residents of Long Island, Nassau, and Suffolk have access to excellent restorative dental care at Syosset Dental. Our talented dentist, Dr. Richard Kobak is experienced with placing crowns, inlays, onlays, and fillings.
The Difference Between Crowns, Inlays, and Onlays
Dr. Kobak can place biocompatible, white restorations to restore the function of teeth without sacrificing a natural-looking appearance. Restorative dentistry addresses chipped, fractured, and diseased teeth.
Crowns – These restorations can be made from a variety of materials including porcelain, zirconia, and porcelain fused to metal. Crowns restore the entire visible portion of the tooth and are strong enough the daily functions of chewing and grinding food. Dr. Kobak will take precise molds of your teeth and your crown will be custom made in a dental laboratory.
Inlays – Like crowns, Inlays are custom made in a dental laboratory. Inlays are normally crafted from porcelain and are placed between the cusps of teeth. These restorations are larger than a filling yet more conservative than a crown.
Onlays – Commonly fabricated from porcelain in dental laboratories, onlays are placed over the cusps of teeth. In some cases, they may extend down the side of a tooth. Some people may refer to an onlay as a partial crown.
Dr. Kobak will precisely match your restorations to your natural tooth color. From simple fillings to full-mouth rehabilitation, our team will work diligently to restore your oral health and create an attractive smile.
To learn more or to schedule an appointment at our new, beautiful office, contact Syosset Dental at (516) 433-2211. We serve patients from Long Island, Suffolk, Nassau, Syosset, and the neighboring New York City communities.