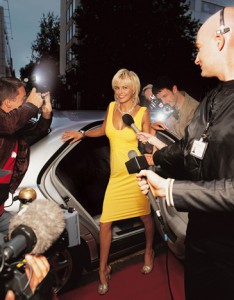 Celebrities are famous for their flawless, immaculate smiles. To ordinary folks, it may seem like they were just born with those straight, pearly whites. Despite this misconception, most people are not born with a perfect smile. Did you know that most celebrities with white, straight looking teeth have opted for some type of cosmetic dentistry? Can you tell which type of cosmetic dental procedures these celebrities have had? Test your cosmetic dental I.Q. with our fun quiz below!
Celebrity Cosmetic Dentistry Quiz
Which two cosmetic dental procedures do Hollywood reporters believe Miley Cyrus had?

Teeth whitening and cosmetic bonding
Porcelain veneers and gum lifting
All of the above
None of the above

Which of these stars have opted for teeth whitening?

Oprah Winfrey
Sara Michelle Gellar
Kim Kardashian
All of the above

Which of the celebrities listed below does NOT have porcelain veneers?

George Clooney
David Bowie
Catherine Zeta Jones
Chris Rock
Mick Jagger

Which actress used Invisalign to straighten her smile before her wedding?

Katherine Heigl
Julia Roberts
Angelina Jolie
None of the above
Answers
B – Reporters believe that Miley Cyrus received both porcelain veneers and a gum lift.
D – All of the above.
E – Mick Jagger is not believed to have porcelain veneers.

A – Katherine Heigl chose to straighten her smile with Invisalign clear braces before her wedding day

High Quality Smile Makeovers at Syosset Dental

Luckily, Long Island residents can achieve a celebrity smile with cosmetic dental procedures from Syosset Dental. Our talented dentist, Dr. Richard Kobak utilizes procedures such as teeth whitening, porcelain veneers, and cosmetic bonding that provide beautiful enhancements to any smile.

If you're ready to achieve a beautiful smile that rivals Hollywood's elite, contact Syosset Dental at (516) 433-2211 to schedule a consultation with Dr. Kobak today. We serve patients from Long Island, Nassau, Suffolk, and the neighboring communities near New York City.