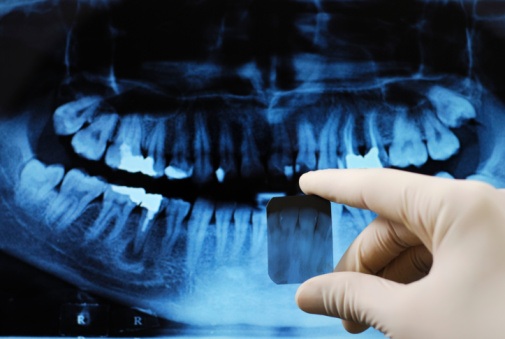 Syosset dentist Dr. Richard Kobak is dedicated to keeping his patients happy and smiling, as well as staying on the cutting edge of what's new in cosmetic dentistry and dental technology. To do this, Dr. Kobak uses advanced technology and techniques to provide his patients from across the greater Long Island area with top-notch general, preventive, restorative, cosmetic, and implant dental care.
Digital Radiography in Syosset
In 2006, Dr. Kobak invested in digital radiography at his state-of-the-art Syosset dental practice and he's never looked back. Digital radiography—more commonly referred to as digital X-rays—is the new face of dental care, and Dr. Kobak wants his patients to fully understand the benefit of this advanced technology.
Traditional dental X-rays expose patients to a minimal amount of radiation, and digital dental X-rays reduce that number by up to ninety percent, making them a truly health-conscious way for Dr. Kobak to obtain the beneath-the-surface look at your teeth, gums, and other oral structures he needs to provide you with the quality dental care you need and deserve. In addition to protecting your overall health and helping us care for your dental and oral health, digital X-rays add a new level of convenience to your dental care.
Because they are immediately viewable, Dr. Kobak can display your X-ray on a computer screen seconds after the image is captured. This allows him to obtain a clearer view of your image, as well as explain the condition of your oral health to you while pointing out the structures on the image itself. Because the images are electronically stored, they can be transferred easily to your medical specialists and insurance company on your request, saving you both time and money as you pursue your quest for healthier living. Also, digital radiography is healthier for the environment because no chemical processing waste is produced during the X-ray process.
Your Dental Care in Syosset
As more and more patients begin to question the use of radiation in dentistry and other medical fields, more and more doctors and health care providers are making it a priority to take the necessary measures to protect their patients from unwanted radiation exposure. Lead aprons are commonly used throughout dentist offices to protect the patient's body during an X-ray, but Dr. Oz recently discussed a new preventive measure on his show–the thyroid collar. Dr. Oz urged viewers to question their dentists about using this safety precaution, and Dr. Kobak is pleased to report that we have been using the thyroid collar at Syosset Dental for several years.
Dr. Kobak also wants our patients to know that dental X-rays are necessary tools when it comes to providing the most high-quality, comprehensive dental care possible. We use dental X-rays to detect problems in the earliest stages, and we have helped our patients overcome problems with minimally invasive, cost effective, and efficient treatment thanks to the results shown in dental X-rays.
If you cringe at the thought of being exposed to radiation each time you have a dental X-ray, talk to Dr. Kobak about digital X-rays at your next appointment. To reserve an appointment, contact Syosset Dental, located in Syosset, New York, by phone at (516) 433-2211 or online at syossetdentalcare.com.