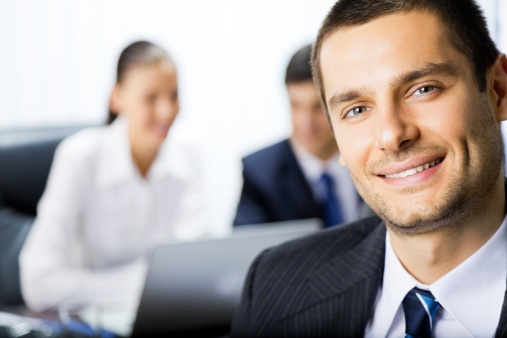 When you're at work, are you friendly and upbeat, or are you so busy trying to get the job done that you forget to smile at your coworkers from time to time? Various research shows that a genuine—and attractive—smile in the workplace can take you far and, today, Syosset cosmetic dentist Dr. Richard Kobak wants to discuss why smiling in the workplace is so important and how to reap the benefits by achieving the smile of your dreams.
Why Should I Smile at Work?
Smiling, more than any other body language signal or physical feature, is a sign of friendliness, sincerity, and self-confidence, and your smile in the workplace relays these values to your coworkers, clients, and boss. This doesn't mean, however, that you should go about your day with an apparently fake grin plastered across your face. In fact, studies show that faking a smile at work is actually harmful to your health.
What are the benefits of smiling at work? In addition to being perceived as friendly, sincere, and confident, people with attractive, strong smiles tend to be taken more seriously in all arenas, and that includes in the boardroom. In short, an employee who shows off a nice smile is more likely to be hired, make more money, and receive a raise and/or promotion than an employee who has a mediocre smile or hides his or her smile altogether.
So, where do you fall on the office smile spectrum?
How can I Achieve My Dream Smile?
If you don't smile at work because you're unhappy, then it might be time to consider a career move or lifestyle change. If, however, you hide your smile because you're embarrassed by the current state of your teeth, Dr. Kobak can help.
Because the basis of a beautiful smile is a healthy smile, Dr. Kobak will first examine your dental health and structural needs at your initial consultation appointment at our Syosset dentist office. Using a variety of preventive and restorative dental procedures and treatments, including periodontal therapy, oral cancer and cavity screenings, TMJ appliances, tooth-colored fillings, inlays, onlays, dental crowns, and more, Dr. Kobak can help restore full health and function to your smile.
If you already have healthy teeth and gums and your smile goals are cosmetic, Dr. Kobak can discuss possible smile makeover options with you at your consultation appointment. Choosing from dental implants, porcelain veneers, cosmetic dental bonding, teeth whitening, and other smile makeover procedures, Dr. Kobak can help you achieve the smile of your dreams that you're proud to show off at work and everywhere else.
To reserve an appointment with Syosset dentist Dr. Kobak and reap the benefits of a healthy and beautiful smile, call Syosset Dental at (516) 433-2211.