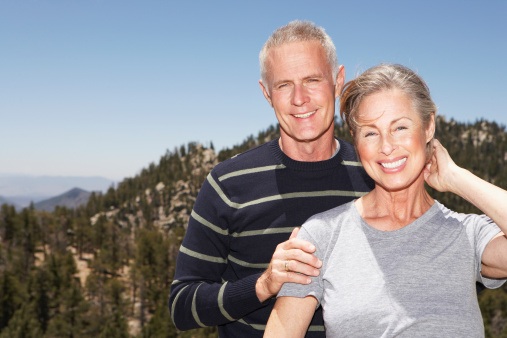 For Syosset smile enhancement dentist Dr. Richard Kobak, helping his patients smile beautifully for life is the most rewarding part of his job. Dr. Kobak understands that some patient's smile needs are much more extensive than others, which is why he is proud to offer advanced dental implantology services to his patients from the greater Long Island area. For patients looking to replace a missing tooth or teeth and, as a result, restore comfort, health, function, and appearance to their smiles, Dr. Kobak recommends dental implants, and, today, he'd like to address some of the most frequently asked questions about this leading tooth replacement procedure.
What is a Dental Implant?
A dental implant is a man-made dental prosthetic that replaces a missing tooth. A dental implant consists of a small, metallic post that is implanted under the gum tissue and eventually fuses to the jawbone to act as the tooth root, an abutment post that fits on top of the implant and attaches the crown, and the crown that is attached to the abutment and looks, functions, and feels just like a natural tooth.
Will a Dental Implant Feel Natural?
Compared to dentures—the previous standard for replacing missing teeth—a dental implant will feel infinitely more natural and comfortable. In fact, implants are the closest thing to natural teeth and precisely imitate them in look, feel, and function. If you are a candidate for dental implants—meaning you have proper jawbone density, sustain good oral and overall health, and live a healthy lifestyle—your dental implant can fuse to your jawbone and provide you with a healthy, functional, and beautiful smile for years to come.
What are the Benefits of a Dental Implant?
In addition to restoring full function and appearance to your smile—and, in turn, giving you the ability to speak, smile, bite, and chew with renewed ease and confidence—dental implants actually promote jawbone regeneration and retention and prevent further tooth loss.
When you lose a tooth, your jawbone in that area is no longer stimulated and, eventually, begins to degenerate because the body thinks it is no longer needed. Over time this degeneration can lead to further tooth loss, sagging of the facial structure, osteoporosis, and more. Once your dental implant undergoes the osseointegration process, the implant post will fuse to your jawbone and stimulate the area.
If you're tired of looking in the mirror and seeing gaps from missing teeth in your smile, it's time to call Syosset dental implant dentist Dr. Kobak at Syosset Dental at (516) 433-2211.