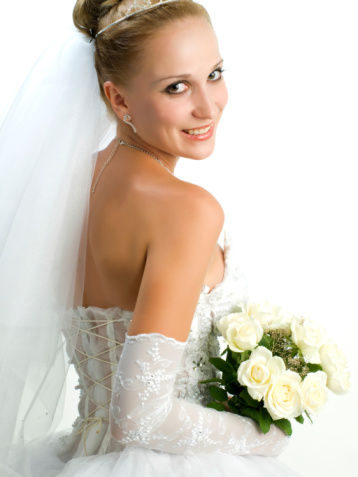 A recent survey asked brides to list what they wished they had done differently for their wedding. Coming in at #2 was "I could've brightened my smile more." Though it may not seem like you have time to see your dentist as you prepare for your wedding, you may be surprised at how easily Dr. Kobak can get you a smile worth treasuring.
Whiter, Brighter Smiles for You and Your Groom
Many brides would like to see their smile match their gown, but feel that whitening takes too long or is too messy. Some brides have tried over-the-counter whitening kits and were disappointed by lackluster results. Consumer whitening products can't beat the power of the professionals. Dr. Kobak offers both at-home and in-office whitening, both of which fit easily into your busy schedule. If you choose our Zoom!® in-office procedure, it only takes 1 ½–2 hours to get the brighter smile you've been dreaming of. Our at-home whitening procedure takes just an hour a day for about a week, and you'll be given gel and custom trays that let you touch up your smile whenever you wish.
Porcelain Veneers for Lasting Beauty
Whitening can't fix stains caused by medications (tetracycline antibiotics and amoxicillin) or genetic factors. Crooked teeth and gaps can be glaringly obvious in high-quality wedding photos. For a more permanent solution to these problems, porcelain veneers are the answer. These wafer-thin custom ceramics are sometimes called "instant orthodontics" because they can correct the appearance of uneven or misaligned teeth in a single procedure. Veneers resist staining, so they'll never need to be bleached. With proper care, your custom veneers will still be bright when you're celebrating your 10-year anniversary.
Family Bonding
Plenty of grooms have chipped teeth from accidents in high school or college—football can be awfully rough on your smile. Composite dental bonding uses the same material as tooth-colored fillings to reshape chipped or serrated teeth, and can also fill in gaps between teeth. Dr. Kobak matches the bonding to the color of your teeth, so you may need to get them whitened before the procedure; once applied, bonding's color cannot be changed.
Here at Syosset Dental, we want to give you and your groom beautiful smiles to start your new life together. Call our office today at 516-433-2211 to schedule your appointment with Dr. Kobak. Our Syosset office is convenient to New York City, Nassau, Suffolk, and the Long Island area.