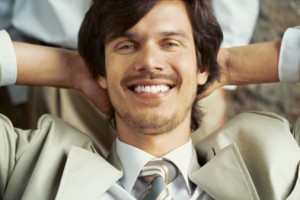 Have you heard of Movember – the mustache-growing charity event that happens during this month every year? Movember is designed to raise funds for, and awareness of, prostate cancer and other cancers that affect men. Participants pledge to grow a mustache for the whole month and to educate those around them on prostate cancer and good health practices. These mustachioed males have raised millions of dollars for cancer research and hope to keep going strong in 2011. Can't join them in hirsute harmony? Take the time to educate yourself about what you can do to have better health practices. Eat healthy, exercise, drinks lots of water, and take care of your teeth. Good oral health is essential to good overall health, and dental problems can lead to problems elsewhere.
Battle of the Sexes: Men's vs. Women's Oral Health
Men tend to have poorer oral health than women; they are less likely to brush their teeth and more likely to have periodontal disease. Periodontitis increases your risk of cancer, heart disease, and stroke. It can also complicate health conditions like diabetes and rheumatoid arthritis. Periodontal disease causes progressive bone loss; if it is not treated, damage to teeth and jaws become irreversible. Swollen, tender, or bleeding gums are a sign of gingivitis, the earliest stage of the disease. If caught early, gingivitis is treatable.
Oral Health and Cancer
Men also tend to have fewer dental visits than women. Your dentist doesn't just look at your teeth – they also check for signs of oral cancer and systemic disease. Oral cancer affects twice as many men as women, and is one of the more aggressive forms of cancer. Smoking, chewing tobacco, and heavy alcohol use are all risk factors for developing oral cancers. However, more young patients without these risk factors are developing oral cancers; don't assume you can't get it if you don't smoke or drink. As with periodontitis, oral cancer is treatable if caught early.
When you practice good oral hygiene, you're protecting your whole body, not just your mouth. Make time for brushing, flossing and rinsing with mouthwash. Remember to brush for two minutes and floss before bed. Ask your dentist about using mouthwash – the first brand you see on the shelf may not be right for you. If you can't brush after a meal, rinse thoroughly with water. If you haven't seen your dentist in more than six months, it's time for a checkup. Call Dr. Kobak today at 516-433-2211 to schedule your appointment. Or office serves patients in Nassau, Syosset, New York City, and the North Shore.