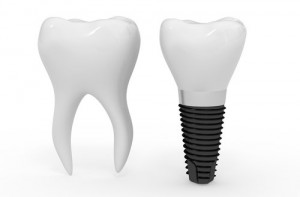 Missing teeth are not aesthetically pleasing, and they also pose a threat to both your oral and overall health. They can lead to the shifting of surrounding teeth, further tooth loss, jawbone deterioration, and gum disease (along with its related ill health effects). Dental implants, titanium posts that act as replacements for natural tooth roots, are a great option to replace those teeth. I'm Dr. Richard Kobak, a Syosset, NY, dentist, and I offer a variety of restorative dental procedures, including dental implants.
Before I place the implants, I will ask you to come in for an appointment, during which he will ask you about your dental health history, perform a thorough exam of your teeth, and perform X-rays. If you are a candidate for implants, I will refer you to a periodontist or oral surgeon (with whom I work closely) who will place the implants beneath your gums, within the jawbone.
The jawbone will then gradually bond with the implant. During the healing process, which usually takes between three and six months, you will wear a temporary appliance and will be able to eat and drink normally. Once bonding has taken effect, the oral surgeon will remove the temporary tooth and attach a small healing collar to protect the exposed gums and implant. Then I will begin making your new teeth. I will take impressions of your teeth and send them to a lab, where your new restorations—crowns, bridges, or dentures—will be created.
The restorations will go over abutments, posts that provide strength and support. After I place the restorations, you will come in for checkups to be sure that the implants are working properly.
Dental implants can give restore your smile's full functionality and beauty!
Is it time for you to renew your smile and your life with dental implants? Contact Syosset Dental today for your consultation.