CAN TEETH WHITENING RESTORE YOUR SMILE'S BEAUTY?
If asked what they would like to improve most about their smile, many people often choose brighter teeth. Most people also consider their smile an important social asset, and believe that an unattractive one can negatively impact their social and professional lives. Professional teeth whitening offers a quick and highly-effective solution to brightening stained, dulled teeth, and is the most popular cosmetic dental treatment today.
What Teeth Whitening System is Best?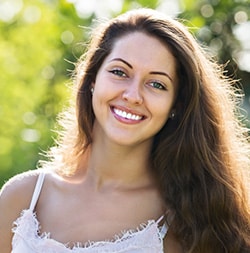 Many people don't see the results they want with over-the-counter OTC whitening strips, toothpastes, or mouthwash. We do not advise undergoing professional teeth whitening administered by anyone other than an experienced cosmetic dentist.
With our professional take-home whitening kits, we'll fabricate custom bleaching trays that fit comfortably in your mouth to hold the bleaching gel on your teeth, and keep saliva from diluting the gel. Usually, professional home teeth whitening takes about 7-10 days to produce optimal results. You'll wear your trays for a few hours each day or evening, or you can wear them overnight, if you prefer.
For patients who demand a faster way to lighten teeth, we also offer in office ZOOM! bleaching, which gives similar overall lightening, but may produce more pronounced tooth sensitivity.
brighten your smile conveniently and effectively
Teeth stains are common, but you don't have to endure the embarrassment they can cause. Brighten your smile significantly with convenient, professional teeth whitening, by calling our dental office in Syosset, NY, today at 516-433-2211 or 516-921-6930. We proudly serve the residents of Syosset, Long Island, Nassau, Suffolk, and all surrounding New York City communities.